Mike and I started fairly early (around 8:30am) and headed towards Bartow county GA. I live in Forsyth County GA and Mike lives in Dawson county GA, so Mike came to my house to start the journey. After loading the car and giving my wife and daughter hugs and kisses we were on our way. We've both done good in Bartow county and we were hoping for some more success this afternoon.
The 1st stop was met with a firm no. We've asked a few times and the owner always made excuses, but he finally just said no way. You win some and you loose some, so we cut our losses and moved on. The 2nd home we stopped at was a little bit scary. When I opened my car door, a very large german shepard dog came immediately up and was barking loudly and showing his massive teeth. I was afraid to put my arm out and close my door! He finally backed away and I quickly closed my car door and looked at Mike and said, "I'm too scared to get out!". We didn't think getting hurt was worth the trouble, so we moved on.
Our third stop was a familiar hunting ground for Mike. I was only on the site two times prior, but I found a large axe head and a few civil era round balls on those two previous hunts. Mike had hit the jackpot on previous hunts on this site with dozens of civil war era round balls, a silver dime from the 1950s or 1960s and a Barber silver half dollar among his finds. So we both knew it was a good site and hopefully our luck wouldn't run out.
Mike started the hunt in the back of the house in the woods. I started in their back yard, but after a few minutes I was getting pretty bite up from mosquitos, so I went looking for Mike. When I found him my mouth dropped open, his face was completely tore up from insects bites! Mike informed me that he had some deet back in the car, so we both returned to the car to apply some bug spray. We both didn't find anything interesting in the back of the property, so we both headed to the front where all the previous good stuff was found.
Almost immediately while hunting the front, Mike calls me over and says, "I think I found something good". I walk over and he shows a thin grey disk. It's very smooth and I don't see much detail, but Mike keeps insisting it's a great find. Here's what it looked like: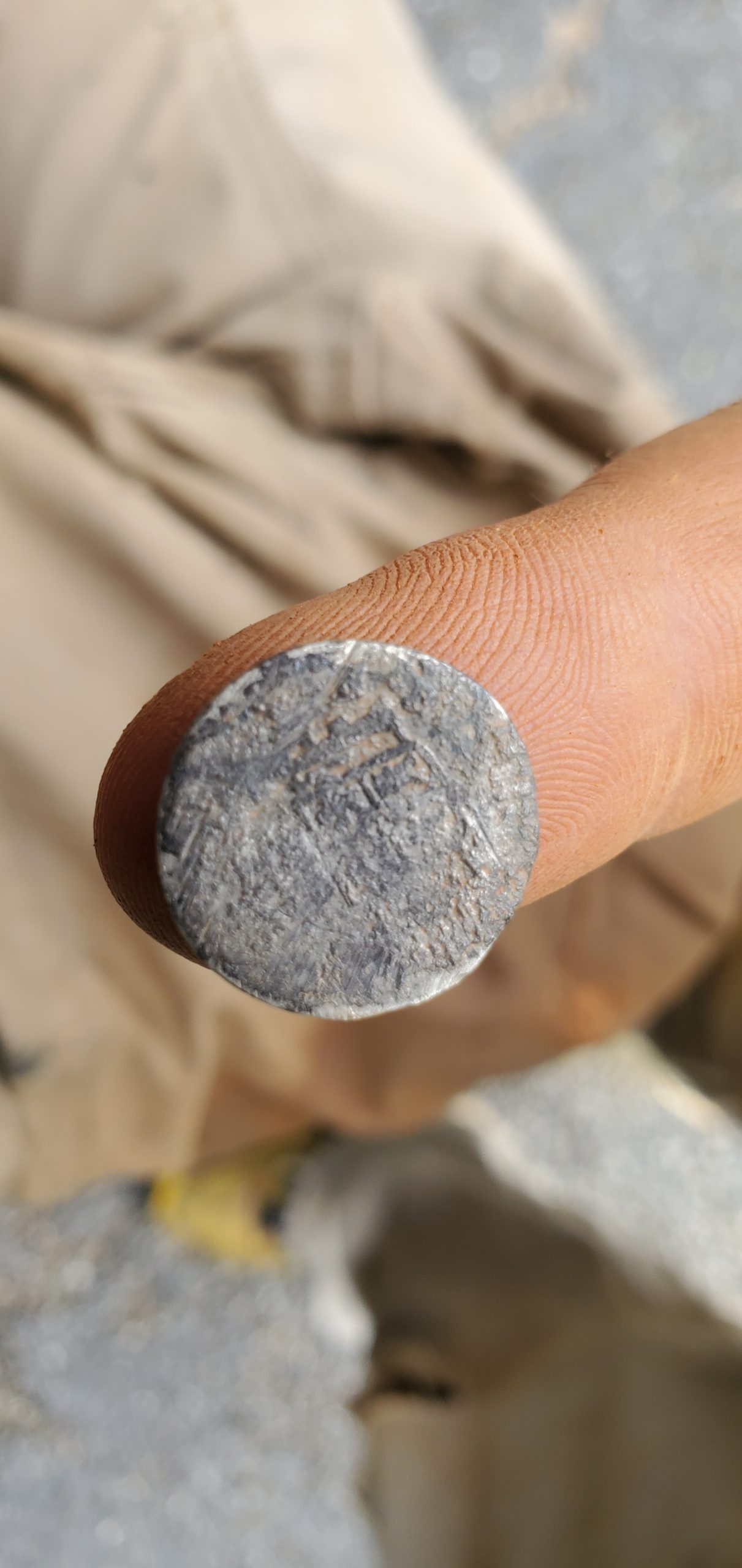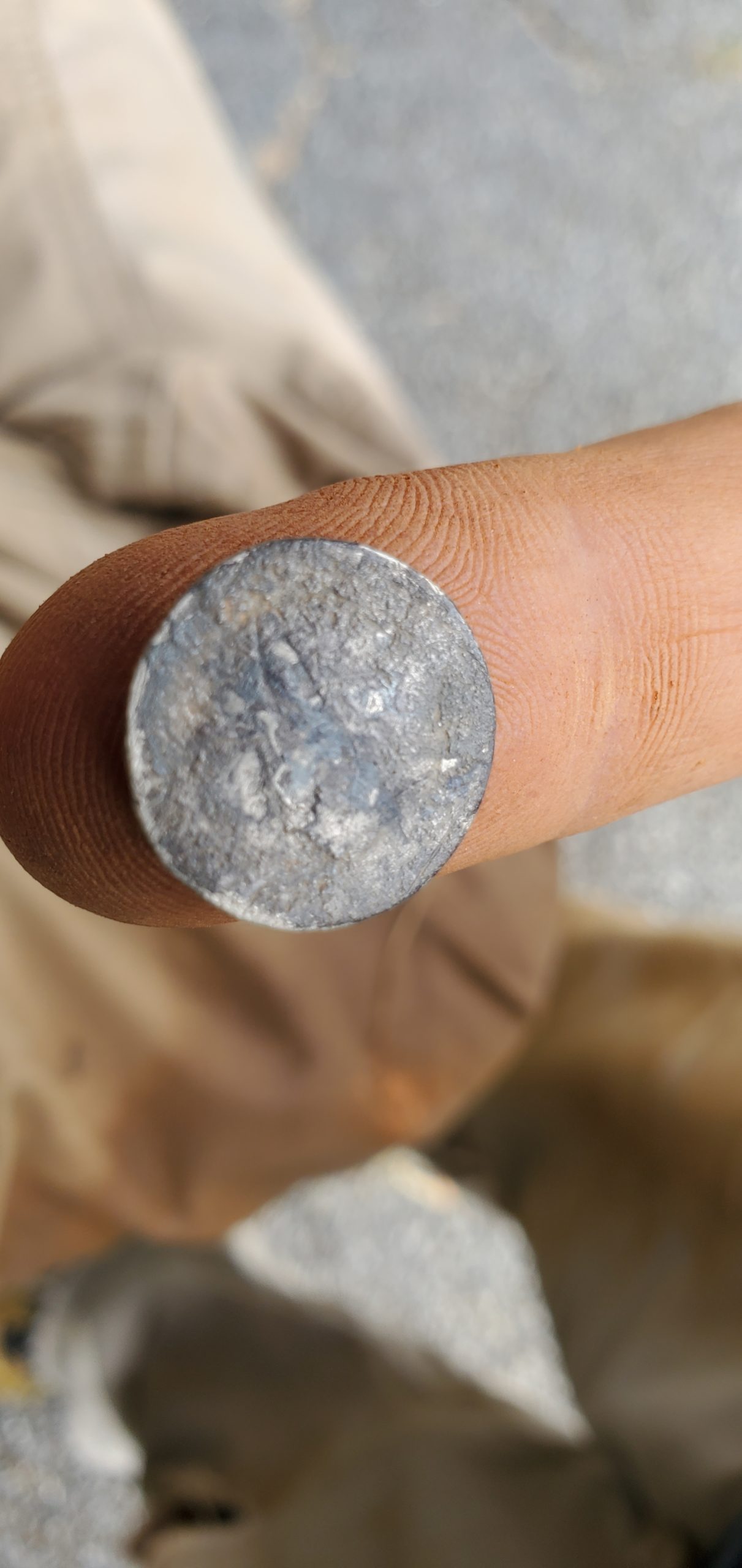 The find did look like silver to me, but it was so thin! We both continued on with the hunt and remained on the site another 3.5-4 hours. Unfortunately neither Mike or I found much of anything to write home about the remainder of the hunt. So when we got home, we started to look at his "good" find more closely.
All we could see was a pillar and part of coat of arms on one side and what looked like part of a neck on the reverse. Not much to go on, but eventually mike said he thought it was a 1772-1789 Carlos III 1/2 real minted in Mexico for Spain. However, we needed more evidence, so we took out a small scale and measured the coins weight. It weighed 1.41 grams which correlated great with the 1772-1789 Carlos III 1/2 real weight of 1.42 grams. But we needed one more piece of evidence to be sure, so we took out a pair of calipers and measured the coin's diameter. I couldn't find the correct batteries, but I the calipers had a scale on it and coin was clearly 17mm. It was official, Mike had found a 1772-1789 Carlos III 1/2 real in North Georgia! When we figured it out, we were practically jumping up and down!!!!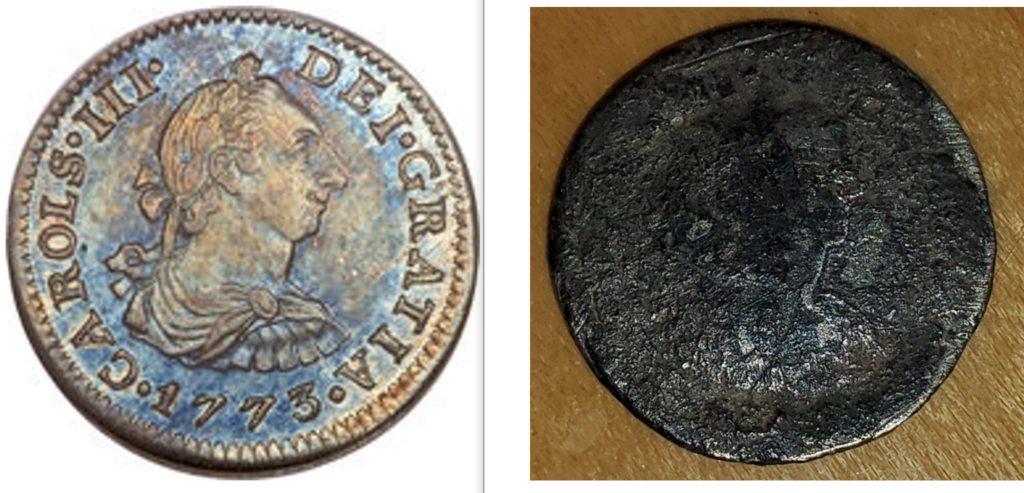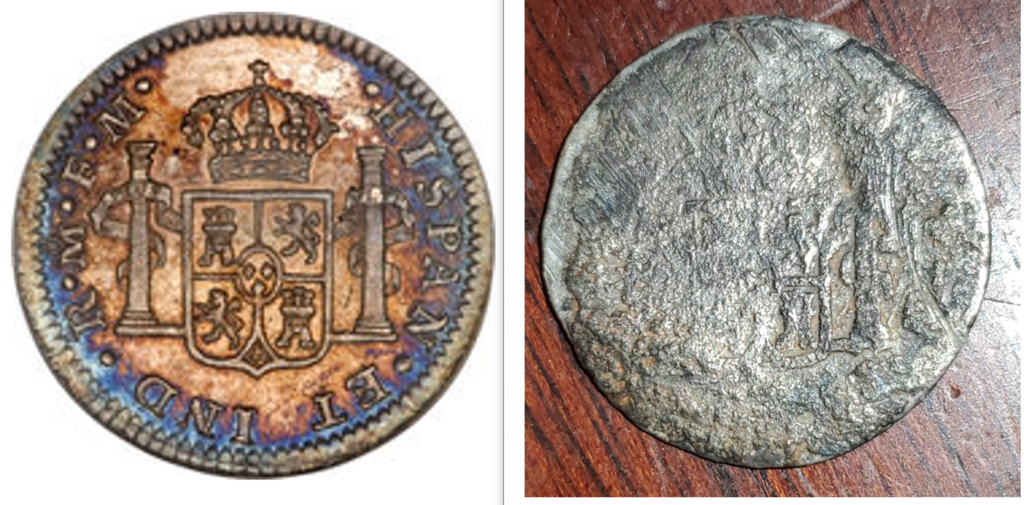 When Mike left my house, we were both estatic! What a wonderful find, but when Mike got home he decided to clean the coin.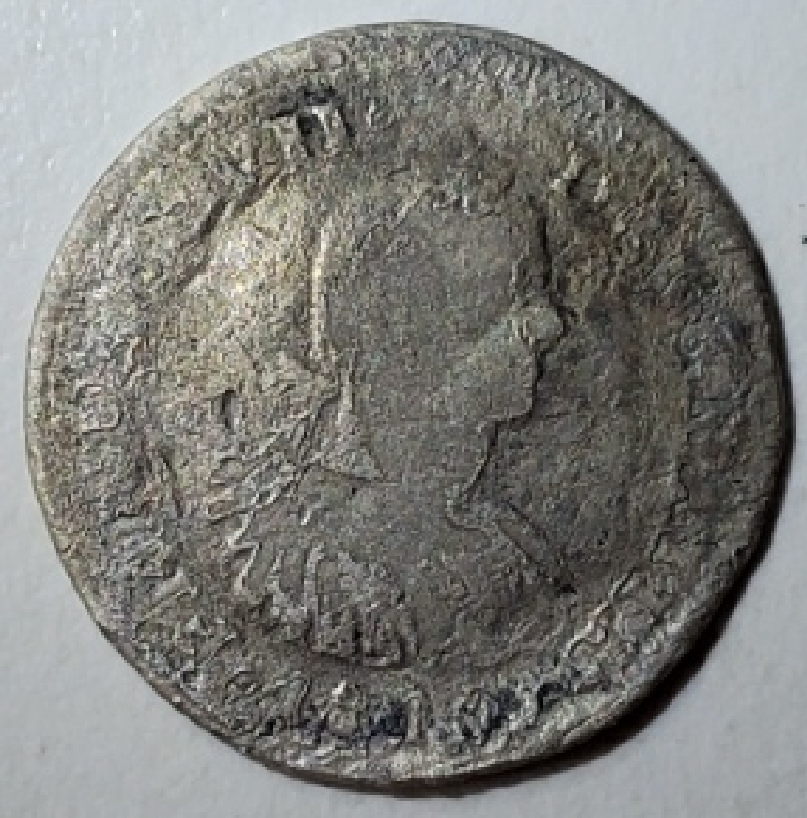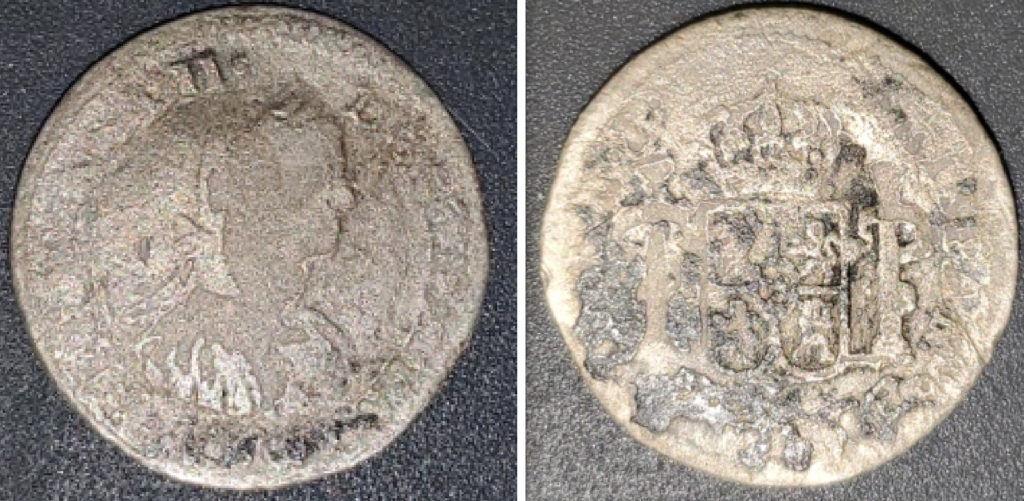 Our initial analysis turned out to be incorrect and there as another Spanish/Mexican 1/2 real that had both the pillars/crest on the back and a similar front. After cleaning, Mike determined he had actually found a 1810 Spanish silver 1/2 real minted in Mexico. The coin was found around 4-5 inches deep with a Minelab Equinox 800. This was a truly great day to come home after finding a coin with so much history. I wish that coin could talk! There's no way to know who lost it or how many people had used it but since the coin is so worn, it went through quite a few hands before ending up in a field in North Georgia. Good luck out there and I hope you find treasure too! Don't give up, treasure is out there ready to be found!