Tim and I hadn't been out hunting for a while, so we were excited to get out to see what we could find. We usually take turns picking locations to go detecting and this weekend I chose to return to Bartow county. In the past, we've done pretty good finding some older coins and relics out this way. We've found V nickels, a shield nickel, and a blade belt tongue or batwing to name a few. Tim and I both didn't expect to find much because we've been out numerous times and usually come home empty handed despite having hours of fun.
But we both had a pretty good day. At the first stop for the day, Tim started things off by finding a '48 silver Roosevelt dime and a really cool wooden nickel play coin circa 1940. The site must had been worked over pretty well in the past though, there were few targets and I left with not much more than a wheatie.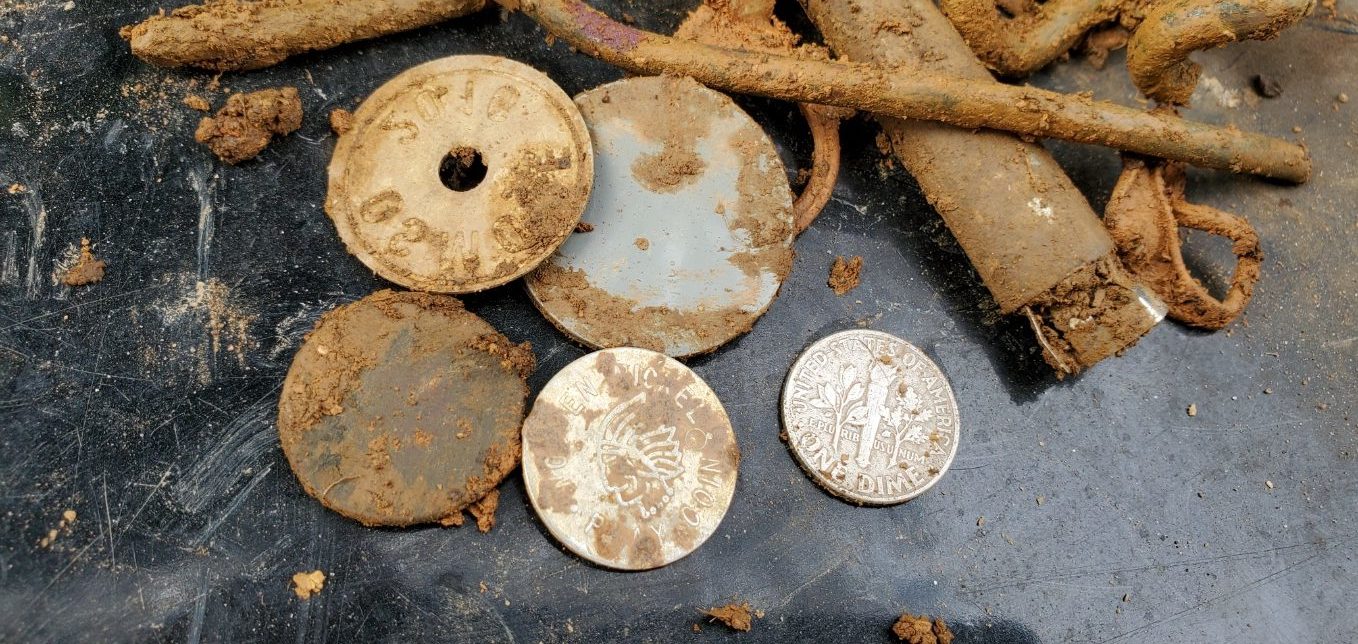 Across the street from the 1830's location number 1 was a new house that we gained permission to hunt next. It was a pretty big yard, but hard to tell where the property line ended. Neither of us found anything but clad at this location though. So to lunch we went.
After lunch we hit location number 3 – a property across the street from where I found a large cent last year. Here there was a gigantic yard to hunt and we didn't waste much time before we got started. Unfortunately, after only 20 minutes or so the owner told us he had an emergency to tend to and asked us to leave. Luckily he said we were welcome back in the future though. Before we chased off Tim found a really cool iron work, perhaps from a bench?
We were off to location number 4, a couple doors down from location number 1. This site too had a large yard for us to hunt. The owners of the 1965 built house said it was 5 acres in total. After about 30 minutes searching in the field I found a super worn mercury dime. I was happy to finally get on the board for the day. About 5 minutes later I unearthed a musket ball – a first for me. Two-three minutes later, Tim is shouting at me, Minié ball!
With excitement in our eyes we continued to hunt the large field. A flat iron was among one of the more interesting finds. It has some writing on it, so I'm going to try and clean it up to see if I can date it. After the flat Iron, I was lucky enough to find another 3 musket balls and my first Minié ball to go with them. Meanwhile, Tim uncovered some horse shoes.
It was getting late in the day and we had to call it quits, but the property owners told us we could come back again in the future. I think we'll be taking them up on that offer.