Our day started at 7am, I packed some snacks and the cooler. I also checked my batteries and grabbed any other essentials that Taylor, Mike and I might need on our adventure.
When Mike arrived, I woke up Taylor and we all hopped in the car and started on our way north. Our destination was a small town in north GA with a deep history. We arrived at our destination around 8:15am and our first stop was Dr. Ash's house. On our last metal detecting trip, we had detected here and the site had a lot of potential.
The home was owned by Dr Ash, but it's his second home, so the odds of Dr and Mrs Ash being home were slim. During our last visit, we had obtained permission from the young lady that was staying in the house as a favor during COVID-19. The young lady had spoken this Dr Ash over the phone and Dr Ash had said that he had lost a gold ring in his back yard. I wish we could have found his ring and returned it, but it didn't happen this trip or the previous (maybe next time!).
After about an hour, I met up with Mike and we went over our finds. At this point, I had two wheaties and a strange lead pouring cup (at least, that's my best guess).
We noticed a neighbor across the street and Mike went over to obtain permission. Unfortunately, it was a hard "NO" with her response, "whatever is in the ground, stays in the ground". Not feeling discouraged, all three of us walked next door and the homeowner was in her car in the driveway. She said that she thinks it would be alright for us to metal detect on their property, but we'd better check with her husband. That's when we met Lloyd, he immediately granted us permission and added that he had found relics just digging in the dirt during renovations. He proceeded to show us a very old hammer that he said was just a large ball of iron oxide and muck when it found it! The head of the hammer and the handle was forged as one piece, which seems pretty uncommon to me. It was a fascinating find and we were very ready to get started metal detecting his yard!
Lloyd's yard was very large and Mike started in the back. I worked the front, because Taylor was eating the rest of her breakfast in the car and I wanted to stay close by to keep my eye on her. After an hour or two, we called it quits, no 19th century relics, but we had a blast. I did find a cool belt buckle with an eagle on the front, but it appeared modern.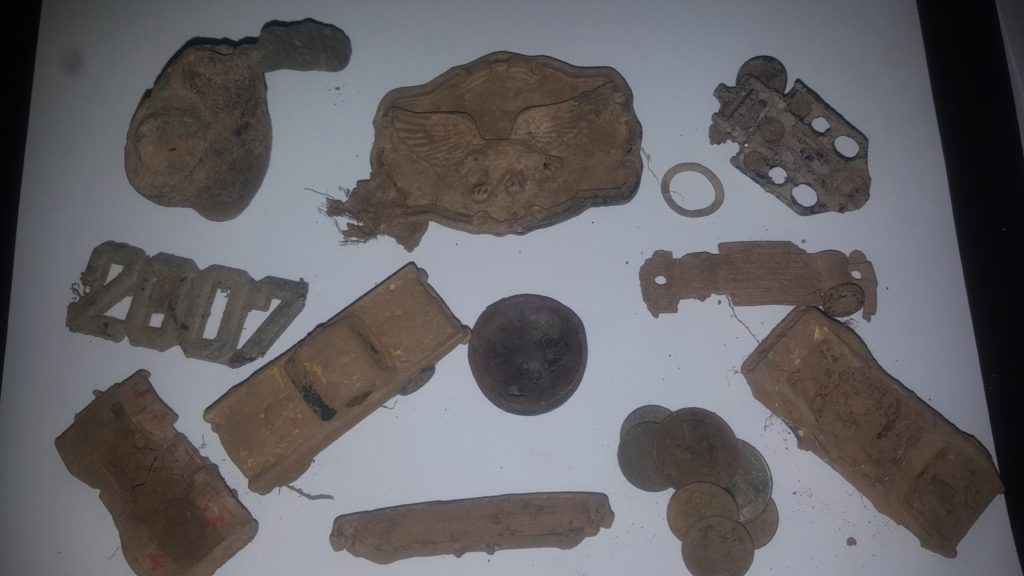 Before leaving Loyd's, we wanted to catch up with him and thank him for his generosity. We didn't find Loyd, but found his nephew Josh. We showed Josh our finds and he said he remembered some of the toy cars we dug up and they were probably his back in the day. Loyd, Josh and his wife are amazing people and we hope we can visit them again in the future.
As we're heading to the car, another neighbor across the street was checking her mail. I went over to talk and ask permission. Her name was Kathy and she immediately said "yes!". She said we weren't the first to ask, so her yard had been detected before and she would let her husband know that we might be coming by to metal detect her yard.
After grabbing some lunch, Mike, Taylor and I met with Kathy's husband Bernie. He said we had a "ace in the hole" when asking permission by bringing along my daughter Taylor because she is so cute. He also said he and his wife would be more than happy to babysit Taylor while we detected. However, Taylor declined and decided to stay outside with us. She said she was scared of catching COVID-19.
My first find was the depth of my digger or 7.5″ deep, which is a deep target for me. I got real excited when I popped it out of the bottom of the hole because it just looked old and it was covered in stars!
After we got home we performed some internet "sluething" and identified the object as a compact or makeup container from the 1930's or 1940's. Here is what it would have looked like when it was dropped: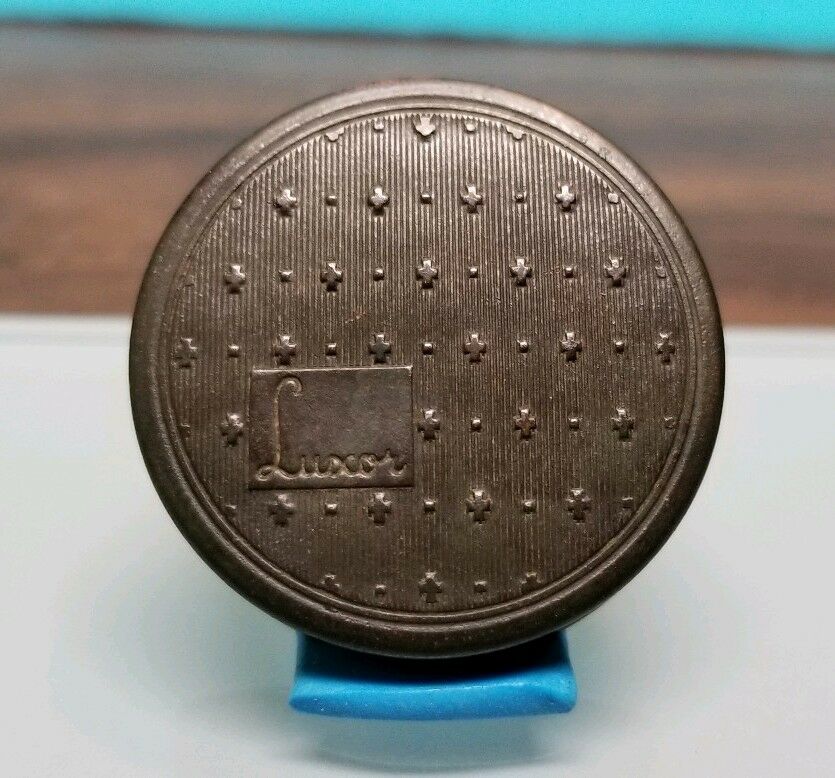 We all had a fun day of metal detecting and the biggest treasure we found were our new found friends; Lloyd, Josh, Kathy and Bernie. The moral of the story is don't be afraid to ask permission to metal detect, once you do it a few times it's not nearly as scary as you imagine (trust me, I know).